OLM SYSTEM
Professional HR digitalization tool
How can your company be up to 40% more efficient?
Request a call back now!
Digitalized HR processes in one system
We offer complete solutions for your company's HR administration, HR controlling, and production management.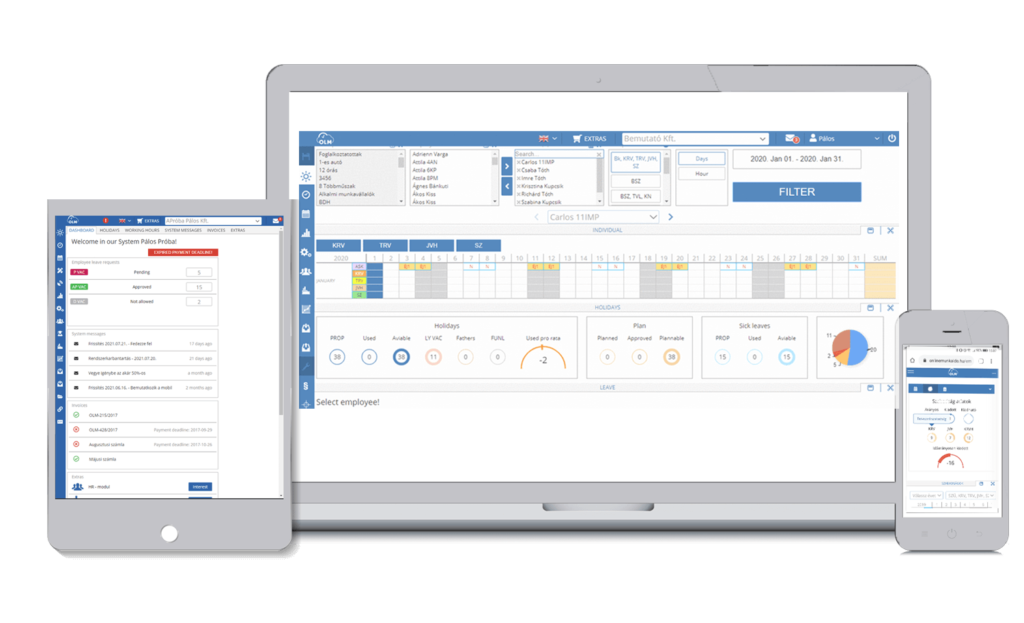 Our modules can also be used as separate applications. They are integrated with each other to form an effective system.
The advantage of generating working time is that you only have to work with a working time assignment in case of any changes.
The Planning, application, printing permissions, notifications system functions replace the holiday application form.
Sickness, GYED, GYES, missions, certified and unqualified absences and other special days records
Start and End work time generated from arrival and departure datas. Warnings: delayed, departed earlier.

Competence matrix based, training administration, with function supporting full organization, management and email notifications.
Organizing and conducting corporate training sessions has been a real nightmare so far. A lot of conciliation, administration and constant attention were exhausting.
In addition, the employee's qualifications and permissions required for jobs or workflows were often expired or inaccurate.
With the OLM System competence module, everything is now placed on a single intuitive interface with lots of useful features.
Upload protective clothing and its properties into the System associating with the employees.
Educate your employees anywhere and anytime in a manner that is in line with the 21st century.
Connect with your co-workers through a unique communication channel to ensure news and messages reach each other.
Do you also believe in numbers?
"The system greatly facilitates everyday job tasks. Thank you for the extremely patient and customer friendly attitude of the OLM Team during the introduction period of the system!"
"Fast, reliable and easy to use. Finally, I do not have to worry about the paper administration at the end of the month. The tasks for the payroll is also prepared!"
"I'm glad that one of my former colleague recommended to me the Schedule Planner. We could schedule and print working time assignment according to the Hungarian regulations."
Every great idea starts with a spark, but the truth is that I dreamed of the System even when even the desktop pc was a rarity. I am Tibor Erzse, CEO of the OLM System. Many people know me as a labor expert, a consultant. My goal is to bring the digital future of HR administration with modern technology and experience.
Interested in speaking with sales? Give us a call at +36 30 661 2775!
Contact:
Email: ugyfelszolgalat@olm.hu
Phone: + 36-70-798-2507
Address: 1132 Budapest, Visegrádi u. 3. 4.em. 1/a (office)